Verify the Right To Work status of employees
We are certified through the UK government Digital Identity Certification Scheme (DICS) to provide the identity verification screening element of UK Right to Work checks.
Check our certificate HereRequest more information Comply easily with law and regulations.
Prevent risks and fines.
Optimise business processes.
Our RTW solution is intended for employers and is not designed for individuals seeking guidance on their right to work status in the UK. For information on this, please refer to the Government Immigration Website.
Compliant with laws and regulations
Organisations with employees are obliged to keep an up-to-date file on all staff. Identity documents and other employment documents must be verified. It is important that any risk of fraud or fines is eliminated.
How does the Right to Work Check work?
The "Digital Right To Work" check is an ID-verify, including a manual verification based on additional documentation. DataChecker verifies the authenticity of the documentation and determines whether the person is entitled to work based on the Home office guidelines.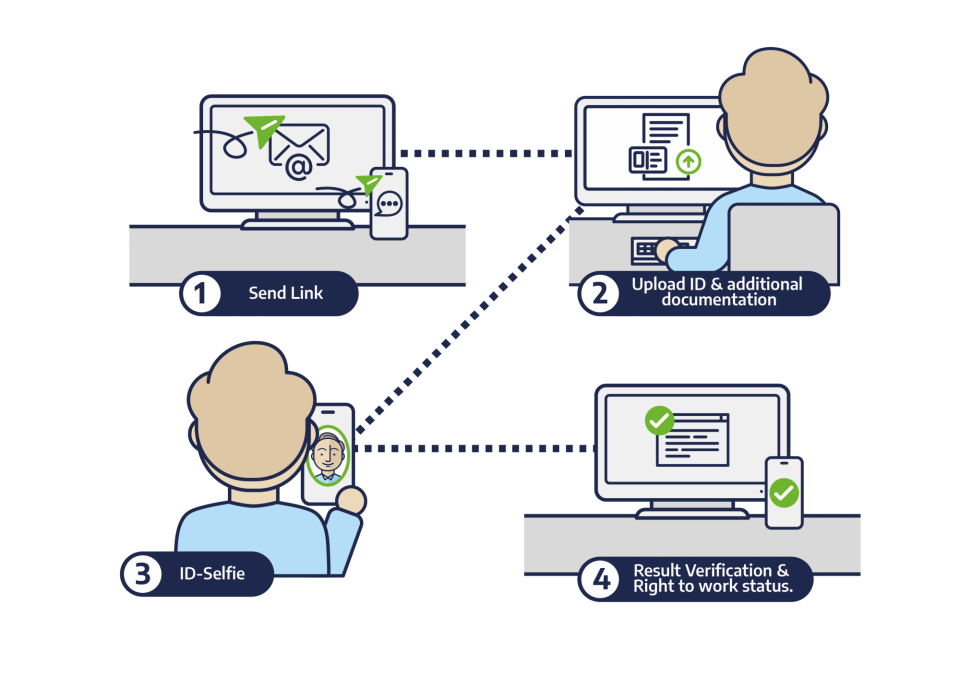 Right to Work Law
According to the Immigration, Nationality and Asylum Act 2006, employers must carry out proper due-diligence to confirm any potential permanent, part-time, or temporary employee has the right to work in the UK before they can begin work.
Right to Work applies to any work experience or unpaid workers. All businesses are required by the Home Office to keep evidence of all the right to work checks they carry out, as well as checking the document provided is genuine and the applicant is its rightful holder.
Why the RTW check?
An employer, employment agency or intermediary must fulfill various obligations regarding the employment of new employees. If the organisation does not meet the following obligations during an inspection there is a risk of fines.
Duty of verification: the employer is obliged to establish the identity of the employee before an employment contract is concluded.
Retention obligation: a copy of the identity document must be stored in the personnel file.
Duty of care: the employee must be able to identify themselves at all times on the work floor during an inspection.
Digital Right to Work Check via your own CRM system?
DataChecker is happy to investigate the possibility of integrating with your desired CRM supplier. We currently have links with a large number of systems. Inquire without obligation about the possibilities.
The technology of DataChecker offers a fast and a user-friendly way to verify the identity; always and everywhere.